The finest brand-name chair replacement cushions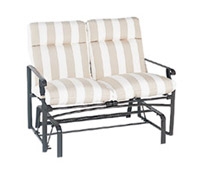 Cool-Summer.com has everything you need to fully furnish any outdoor setting, whether it's a sprawling beach resort or a diminutive backyard pool. We offer an expansive selection of patio chair seat cushions of all styles, including fringe welt cords, deep seating, wicker chair cushions, Euro style, wood, chair pads and chaise pads, as well as universal cushions for aluminum and wrought iron furniture. You'll find products from the most respected brand names in the industry, including Brown Jordan, Kingsley Bates, Evolutif Resin, Grosfilex, Kettler Resin, Lloyd Flanders, Hanamint, Tropitone, Hatteras, and more. We also carry wicker chair cushions by Cebu, the company that specializes in wicker. Additionally, we offer custom cushion covers so you can easily and stylishly protect your investment from sun, rain, debris, and other environmental hazards.
Wicker chair cushions and more
Our Brown Jordan cushions are designed to fit Brown Jordan only, but specifications may not be exact to OEM. They are available in foam or polyester fill, and welt can be added for a 30% upcharge. Our Classic Cartridge patio chair seat cushions are designed to accommodate aluminum, wood or PVC furniture. The sizes listed are approximate, and lengths can be altered up to 4 inches for a 30% upcharge. These particular chair replacement cushions feature fabric ties and polyester fill.
Universal patio chair seat cushions
Our Universal Cast Aluminum Cushions feature foam or polyester fill with fabric ties, and are designed to accommodate cast aluminum or iron furniture. The listed sizes are approximate and cannot be altered, so be sure to measure your pieces before ordering. Our Universal Euro Style chair replacement cushions are designed to fit resin, aluminum strap and sling furniture securely with their fabric ties. They feature foam and polyester fill and topstitching. Listed sizes are approximate, and unlike the cast aluminum sets, these may be altered up to 4 inches with a 30% upcharge. This way you'll be ensured a perfect fit. If you need any help measuring your furniture, please give us a call. We're always more than happy to help. Thank you for shopping Cool-Summer.com today.