The luxurious double chaise lounge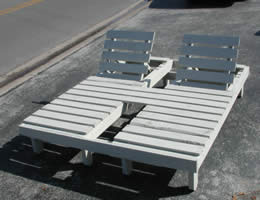 When it comes to reclining in the sun, Cool-Summer.com has some of the best options found anywhere! For example, our semi recliner offers the utmost in luxury. Made of heavy-duty canvas fabric, it features a collapsible side table and extra-long footrest with durable molding. The armrests are upholstered for extra comfort, and it features two folding transport handles for easy movement from place to place. Our double chaise lounge features an adjustable three-position back that can lay completely flat. It comes in pressure-treated wood in your choice: pine, redwood, oak, ash, or mahogany. Of course, the chaise can be painted any color. It has room enough for two or makes a super-spacious experience for one! If you're looking for even more luxury, our best-selling cabanas combine the best of both worlds, as far as reclining and sun protection. They're essentially a double chaise lounge complete with a canopy and other accessories. When you're looking for luxury in the sun, this is it!
The perfect discount chaise lounge

Several of our brand names specialize in all-aluminum outdoor furnishings of exceptional durability, and one of them is Tropitone. This manufacturer prides itself on furnishing every outdoor space, whether it's a beachfront, pool, balcony, café, or patio. You'll find the perfect discount chaise lounge, chair, sofa, umbrella, and barstool set. It's no surprise that hotels and resorts worldwide use quality Tropitone outdoor furnishings. Another successful manufacturer of quality and durable cast aluminum and cast iron products is Hanamint. This innovative company has secured many design and utility patents since the company's inception in 2003. This is quite a testament to their innovative designs and unique styling. Hanamint remains a strong leader in the outdoor furniture market, boasting quality products with outstanding workmanship. When you're shopping for a discount chaise lounge that's built to last, Cool-Summer.com has the brand names and manufacturers that deliver the goods, every time.

Don't forget to check out our lines of chair cushioins, lounge chair towels, beach cabanas and umbrellas. All of our products are of the highest quality and made to last many sunny summer seasons.