Relax with a beach cabana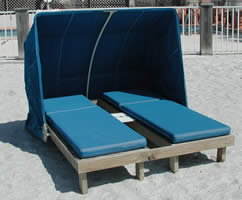 Nothing says summer like a beach cabana, your own private retreat in the midst of your backyard or patio. Whether you're a resort owner with many properties or a homeowner wanting to add some flair to the everyday patio set, we have everything you need. Our beach cabanas are truly amazing, they offer durable canvas fabrics, upholstered armrests and come in a variety of styles form wicker to wood. Accessories make our cabanas truly unique with foot rests, cup holders, drink flags, and more.
Fun fabric canopies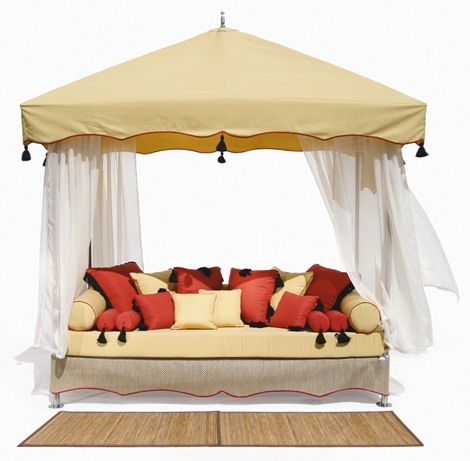 Luxury abounds in our exquisite cabanas complete with fabric canopies in your choice of solids or stripes. You will feel like a Greek god as you lounge under one of these elegant shelters. Our canopies are guaranteed against the elements and will keep you protected in style. Our canopies come with a variety of features including a pop up style that is convenient for last minute get togethers that can make an ordinary picnic extraordinary.

Enjoy our convenient portable canopies
Life has never been simpler when you choose one of our portable canopies. These are very easy to assemble and create a feeling of instant privacy. What could be better for a relaxing massage on the beach than a completely enclosed shelter or a quick cleansing in our concealed collapsible sun shower? There is no better way to bring a little bit of the indoors outside by defining your own space and bringing all of the comforts inside.
Browse our large selection of outdoor selection of outdoor furniture, fabric canopies, chaise lounges and more. You will feel like you are on a luxury vacation every day when you turn your backyard into your own personal sanctuary appointed with a beautiful beach cabana. Now you can have all the comforts of a 5-star resort including portable canopies that add privacy and extend the outdoor season. Your friends and family will never want to spend their vacation anywhere else.